Analysis and Solution of Leakage Failure of Control Valve
Control valves are also called control valves, most of which are composed of actuators and valves, and are suitable for many media: water, air, steam, mud, oil and various corrosive media. According to the different driving methods, the regulating valve is basically divided into four categories: pneumatic regulating valve, electric regulating valve, hydraulic regulating valve and self-operating regulating valve. The leakage problem of the regulating valve is a relatively common problem. Let's take a look at the analysis and solution of the leakage of the regulating valve, which can be roughly divided into five methods.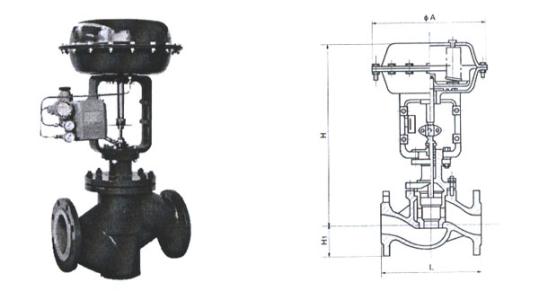 First, increase the packing method
In order to improve the sealing performance of the packing to the valve stem, the method of increasing the packing can be adopted. Usually, it is in the form of double-layer and multi-layer mixed fillers, and the effect is not obvious by simply increasing the number, such as increasing 3 pieces to 5 pieces.
Second, increase the sealing grease method
For valves that do not use sealing grease, consider adding sealing grease to improve the sealing performance of the valve stem.
3. Replacing graphite packing method

The tetrafluoro packing used in large quantities has a working temperature in the range of -20 to +200 ° C. When the temperature is in the upper and lower limits and changes greatly, its sealing performance will be significantly reduced, the aging will be rapid, and the service life will be short. Flexible graphite fillers can overcome these disadvantages and have a long service life. Therefore, some factories all change the tetrafluoro packing to graphite packing, and even the newly purchased control valve also replaces the tetrafluoro packing with graphite packing and uses it. However, the hysteresis of using graphite fillers is large, and some crawling phenomenon occurs at the beginning, which must be considered.
Fourth, replace the gasket
So far, most of the sealing gaskets are still made of asbestos sheets, which have poor sealing performance and short life at high temperatures, causing leakage. In this case, spiral wound gaskets, "O" rings, etc. can be used instead.
5. Using lens pad sealing method
For the sealing of the upper and lower covers, the sealing of the valve seat with the upper and lower valve bodies. If it is a flat seal, under high temperature and high pressure, the sealing performance is poor, causing leakage, and the lens pad can be used instead to obtain satisfactory results.
The above five methods are today's theme "Analysis and Solution of Leakage Failure of Control Valve", I believe it will bring you enough help.